1. TAXIDERMY & EXPEDITING
For all taxidermy and expediting questions, please contact Andrew Holt to get your trophies back home. Big Game Taxidermy NZ Ltd is located next to Christchurch Airport for a convenient stop after your adventure. Tell him Kent said to call, for extra good attention to your needs.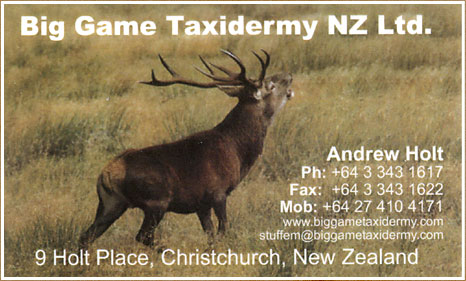 2. TRAVEL
Flight from LA Airport → Christchurch Airport
Airline options: Air New Zealand, Qantas, American
3. BIRD MOUNTING
For all your bird mounting done proffesionaly go to www.aviantech.co.nz for all your needs.
4. CONTACT
Airport pickup
5. NZ TEMPERATURES
March - September, range 30°F - 70°F.
6. FIREARMS TO NEW ZEALAND
There is no problem bringing your own firearms into New Zealand, with the exception of pistols. We also offer the use of our firearms free of charge. You require a firearm import permit, obtainable from www.police.govt.nz.A fee of $25 N.Z. is required.
7. EQUIPMENT
Bring standard hunting equipment fitable for October/November hunting conditions in the states, with high emphasis on boots and rain gear.
8. BEST HUNTING TIMES
Most hunting adventures are from March - September.
9. RIFLE
We have rifles available for hunters who like to travel light and avoid getting a new zealand gun permit at the airport.
10. NEW ZEALAND FIREARMS APPLICATION
for application for new zealand firearms licence click here